| | |
| --- | --- |
| Origin | Guatemala |
| Region | Antigua |
| Altitude | 1,600-1,830m above sea level |
| Varietal | Bourbon, Caturra |
| Processing Method | Natural |
| Farmer/Owner | Ricardo Zelaya |
This naturally processed Guatemalan coffee is a 900kg micro-lot from Santa Clara Estate, in Antigua. Ricardo Zelaya, who produced this coffee has been working hard to perfect his naturals over the years. Intensely sweet and rich, but it is also clean and balanced and retains some of its inherent Terroir this year's lot is an excellent representation of everything you want from a naturally processed coffee!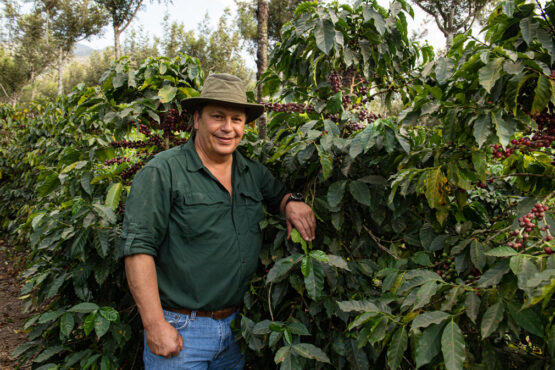 Every cherry at Santa Clara is hand-picked when perfectly ripe, and then sorted by hand before being inspected by the quality control manager at the wet mill. This special micro-lot has been hand-picked by special pickers, who are employed and paid higher wages specifically for their skill at selecting only the ripest and most perfect cherries. The method of 'special' picking is one that the Zelayas have used to great effect in the lots that they submit to the Cup of Excellence competition. They've recently begun to expand their offerings of lots, such as this one, that utilize the same method of picking.

On the same day that they were picked, the fully ripe cherries were washed thoroughly in the receiving tanks, and additional water was passed over them to remove any traces of dirt. They were then left in this tank overnight. The next day the cherries were taken through the washing channels to ensure there were no floaters, and then transferred directly to the African beds inside the greenhouse where they were turned every thirty minutes initially, and then as the beans dried out this was increased to every fifteen minutes to ensure uniform drying. Drying took around twenty-one days to reach the desired moisture level.
Once dry, the coffee is rested in parchment until it is ready for export. It is then milled at Ricardo's dry mill which is located on the farm. The management of this meticulously run mill is overseen by a talented team who carefully monitor every stage of milling to ensure high-quality expectations are met. Throughout the process, Ricardo also ensures that all organic by-products are recycled and reused.
Ricardo recently dedicated lab located on his property and a QC team focused on analyzing every single lot produced on the farm. Balmer Aragón heads up the QC program and is in charge of all of the roasting and cupping. Each day lot is cupped and scored prior to blending and the findings are used to inform improvements in harvesting and processing.