| | |
| --- | --- |
| Origin | Brazil |
| State | Bahia |
| Region | Chapada Diamantina |
| Altitude | 1,150m |
| Varietal | Topazio |
| Processing Method | Natural |
| Farm | Fazenda Progresso |
| Owner | Borré Family |
Fazenda Progresso is a beautiful farm nestled in the Chapada Diamantina mountain range in the heart of Bahia. The farm sits on a plateau at 1,150m above sea level and is surrounded by the Chapada Diamantina National Park, known for its mountainous cliff formations (Chapada) and 19th-century diamond mining (Diamantina). This elevation plays a key role in the quality of the beans, as does the average temperature variation of 10°C, with hot days and cool nights, providing the ideal conditions for slow cherry maturation, giving time for natural sugars to develop, resulting in a sweet and complex cup.
This coffee was carefully hand-picked by a specially trained team between June and August. It was then natural-processed. The cherries were selected at the peak of ripeness, and then carefully dried on meticulously clean patios under the protection of a greenhouse and turned regularly for 24 hours. The coffee was then dried very slowly and thoroughly in mechanical dryers for 18 hours and then rested for 6 hours.  This process was repeated for a total of 40 hours until the coffee reached 12% humidity. Progresso has done a lot of experimentation with drying and has found that this method yields the very best results and ensures that the coffee holds its quality over an extended period of time.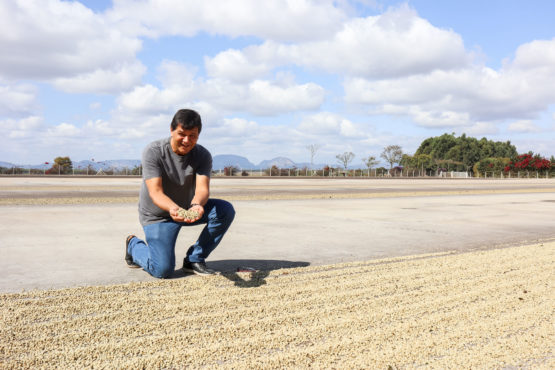 Once dry, the coffee was hulled to remove the dried fruit skin, cupped by the QC team, and placed in large silos to rest. When the coffee was approved and ready for export it was processed at Fazenda Progresso's dry mill which is also located on the farm.